KraussMaffei těží z kompetencí svých tří podnikových jednotek
Kruh nemá začátek ani konec. Oběhové hospodářství znamená používat vyrobené materiály znovu a znovu, a tím šetřit CO2, suroviny a energii. Dobrou ukázkou toho, jak to funguje, byl exponát na veletrhu K 2022: od uzávěrů inzulinových per až po čelní nosič vyztužený skleněnými vlákny. Společnost KraussMaffei je jediným dodavatelem v oboru, který vyrábí veškeré strojní vybavení (vstřikování – vytlačování – vstřikování) a vyvíjí vlastní inovativní digitální řešení pro tento proces.
Celosvětová poptávka po plastových výrobcích roste, zejména ve zdravotnictví, a mnoho z nich se používá pouze jednou. Co je tedy samozřejmějšího než použít tyto suroviny, obvykle nijak zvlášť neznečištěné, na výrobky s delší životností? Na veletržním stánku procházejí klasickým upcyklačním procesem krytky inzulinových per.
Nejprve se vyrobí ze zdravotnického čistého polypropylenu na plně elektrickém stroji PX 200-1400 s 96dutinovou formou, poté se rozdrtí a přemístí do dvoušnekového extrudéru ZE 28 BluePower. Zařízení pro laboratorní aplikace a malosériovou výrobu nabízí optimální kombinaci vysokého výkonu (až 1 200 ot/min) a nízké spotřeby energie.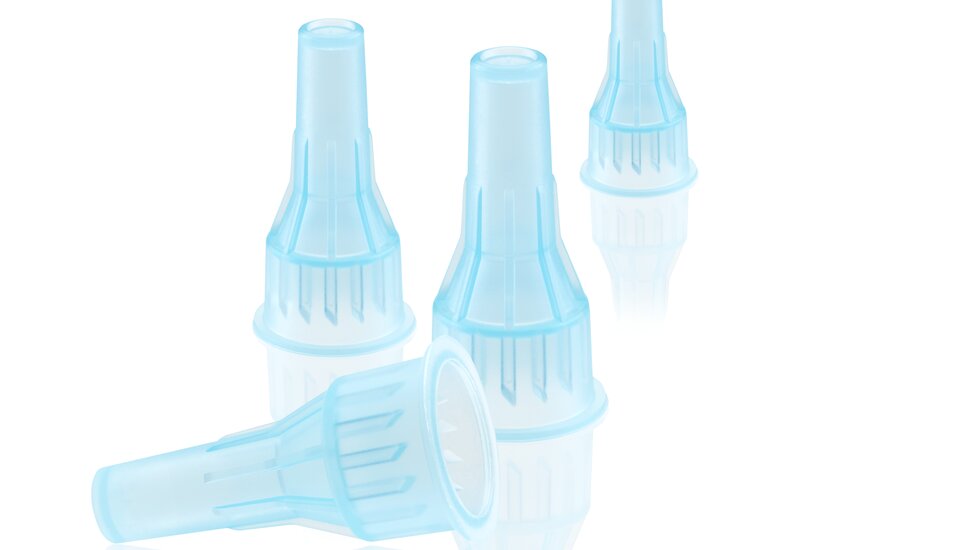 Upcyklace pomocí dvoušnekového extrudéru ZE 28 BluePower
Uvnitř ZE 28 BluePower dochází k přeměně na high-tech směs. Polypropylen se smíchá se 30 % skleněných vláken, adhezními přísadami a tekutými barvami a materiál se poté homogenizuje. Tak se dostane do dalšího vstřikovacího stroje, kterým je powerMolding 1300-11900 s uzavírací silou 13 000 kN.
Tato nově vyvinutá řada je založena na osvědčené dvoudeskové technologii a poskytuje vysoce standardizovaný rozsah možností jako cenově výhodná varianta pro téměř standardní aplikace. Zařízení powerMolding je také vybaveno funkcí APCplus, vyvinutou speciálně pro recykláty. U nich je kolísání dávky často větší než u standardních materiálů, což ovlivňuje viskozitu taveniny.
Funkce APCplus definuje bod přechodu individuálně pro každý cyklus a dosahuje tak extrémně rovnoměrné hmotnosti vstřiků. Cílového procesu je také dosaženo mnohem rychleji po spuštění stroje, čímž se výrazně snižuje zmetkovitost.
Díky digitálním službám obchodní jednotky DSS společnosti KraussMaffei je proces vstřikování i vytlačování ještě efektivnější než dříve. Vždyť například počáteční investice do nového vstřikovacího stroje činí jen asi deset až 20 % nákladů životního cyklu. Zbytek připadá na vlastní provoz. To znamená, že pokud se podaří snížit výdaje na energii, údržbu atd., prospěje to nejen životnímu prostředí, ale také se zvýší ziskovost.
Aplikace předvedená na veletrhu K se zaměřuje na udržitelnost a veškerá data zaznamenávají i zobrazují se zobrazují s ohledem na ni, takže je vždy jasné, kolik se recyklací ve srovnání s použitím primárního materiálu ušetřilo CO2. Za tímto účelem vyvinula společnost KraussMaffei společně s firmou Motan aplikaci, která ukazuje spotřebu energie v jednotlivých krocích procesu.
Zpracovatel tedy dokáže vyhodnocovat a zlepšovat svou ekologickou bilanci. Do hloubky procesu může nahlédnout pomocí aplikace DataXplorer, která ukládá až 500 signálů stroje v reálném čase, a slouží tak také jako základ pro měření CO2 stopy.  Tímto způsobem můžete okamžitě zjistit odchylky od předem definovaných tolerančních rozsahů.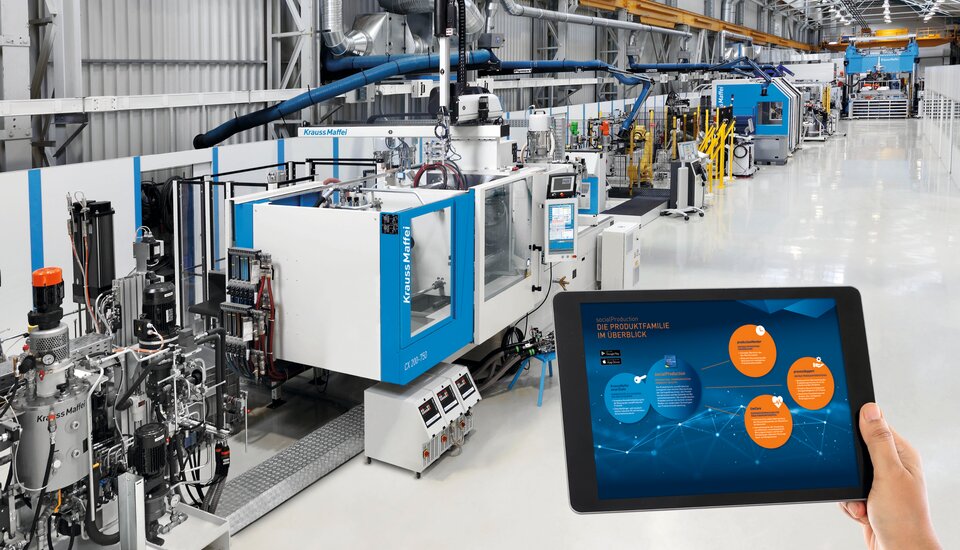 Nejmodernější technologie pro monitorování výroby
KraussMaffei nabízí rozsáhlé portfolio možností, jak učinit výrobu šetrnější k životnímu prostředí – například skupinu produktů socialProduction.  Digitální produkty liveCare, processSupport a productionMonitor firma vyvinula společně se zákazníky. Můžete tu vidět, co je v oblasti Průmyslu 4.0, cloudu a analýzy dat pro plastikářské stroje již skutečností. Aplikace productionMonitor kombinuje výhody sociálních médií s nejmodernějšími technologiemi pro monitorování výroby.
Stroje podávají uživatelům živé zprávy v zabezpečených chatovacích místnostech. Aplikace processSupport nezávisle a inteligentně detekuje anomálie ve výrobním procesu a liveCare je řešení pro údržbu založenou na stavu. Díky bezproblémové integraci do systému socialProduction se stav opotřebení nepřetržitě monitoruje a vizualizuje.
Aplikace pioneersClub je ústřední platformou pro zkušenosti zákazníků a elektronický obchod. Zde mohou zákazníci získat přehled o svých zařízeních (včetně dokumentace), rychle kontaktovat odborníky společnosti a objednat náhradní díly pouhým kliknutím myši.
Udržitelnost se stává pro zákazníky i úřady stále důležitějším tématem. EU například plánuje do několika let zavést digitální pas výrobků, který bude u každého výrobku mimo jiné uvádět, jaký materiál byl použit a jak byl zpracován. S digitálními produkty od společnosti KraussMaffei můžete první kroky tímto směrem udělat již dnes.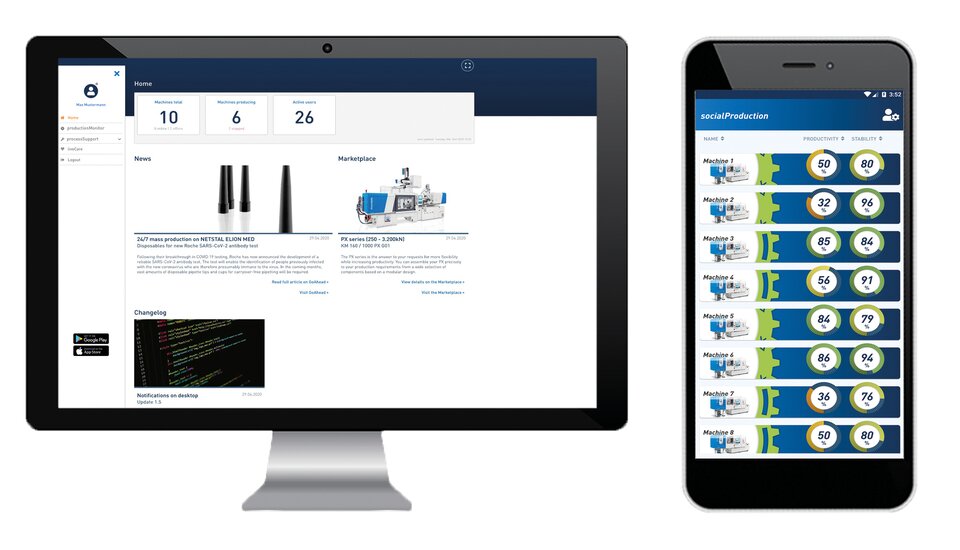 Text:   KraussMaffei
Foto:  KraussMaffei