ONI Temperiertechnik Rhytemper GmbH (headquarters in Großröhrsdorf, Germany) is engaged in the production and development of temperature control systems. The main focus of its activity is the Rhytemper® pulse temperature control method, the patent of which was registered in 1994.
This concerns a structure of multi-circuit temperature control systems working on the pulse control principle. The systems provide for optimal control of the injection molding process, minimization of cycle time, low waste rate and thus a higher efficiency of production. The system works at the same time with minimal input power requirements. This results in the return on initial investment in the order of months.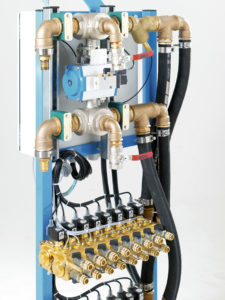 A different perspective on temperature control
Due to the geometry of a plastic component, varying wall thickness, position of injection holes and other factors, uneven heat distribution necessarily occurs in the tool. Each circuit is set separately by means of relevant valves, and its opening time is defined. The main advantage compared to a conventional temperature control unit is that the cooling water is fed to the mold plates through a large diameter hose (approx. 2″). It is then reduced to individual ducts. The objective is that each valve (circuit) is opened exactly for the time necessary to remove the residual heat it has taken from the material during injection.
This is a different view of temperature control. Firstly, the material is heated by means of a temperature control unit (preheating station) to the desired mold temperature. Then the temperature control unit is typically disconnected and excess heat accumulated in the mold from the process is removed. This keeps the temperature constant on the mold. Debugging this process is called optimization.
Thanks to this fact, high quality multi-circuit temperature control has proven itself in recent years, especially for complex shaped parts. When using this method, several standard temperature control units are combined into one system.
What makes the pulse temperature control better?
Pulse temperature control works synchronously with the injection process compared to conventional multi-circuit temperature control. Cycle-dependent injection molding machine signals are part of the temperature control. This allows a more precise temperature control of the "cycle-bound" shaped cavity. Thanks to the cycle binding, with the pulse temperature control the water flow is interrupted during injection and movement of the tool.  Thus the flow of plastic material is not adversely affected by the flowing water, but remains preserved as much as possible. After injection, the thermal energy of each individual temperature control circuit is controlled by a time-limited flow of water – a cooling pulse. The duration of the cooling pulse is governed by the required temperature value in the given temperature control circuit.
Arrange a visit to the Technology Center. Make a date for it.