KraussMaffei leverages competencies of its three business units
A circle has no beginning and no end. Circular Economy therefore means using materials that have been produced once again and again, thus saving CO2, raw materials and energy. An exhibit at K 2022 (Hall 15, Booth C15/C24-D24) shows how this works: from insulin pen caps to glass fiber-reinforced frontend carrier. KraussMaffei is the only supplier in the industry to manufacture the entire machine hardware (injection molding – extrusion – injection molding) and innovative digital solutions for the process in-house.
The global demand for plastic articles is growing, especially in the healthcare sector, and many of them are only used once. So what could be more obvious than to use these raw materials, which are usually not very dirty, for products with a longer service life? At the trade show booth, the caps of insulin pens undergo a classic upcycling process.
First, they are created themselves from medical polypropylene virgin material on an all-electric PX 200-1400 with 96-cavity mold, then shredded and transported to the ZE 28 BluePower twin-screw extruder. The unit for laboratory applications and small-batch production offers an optimum combination of high throughput (up to 1,200 rpm) and low energy consumption.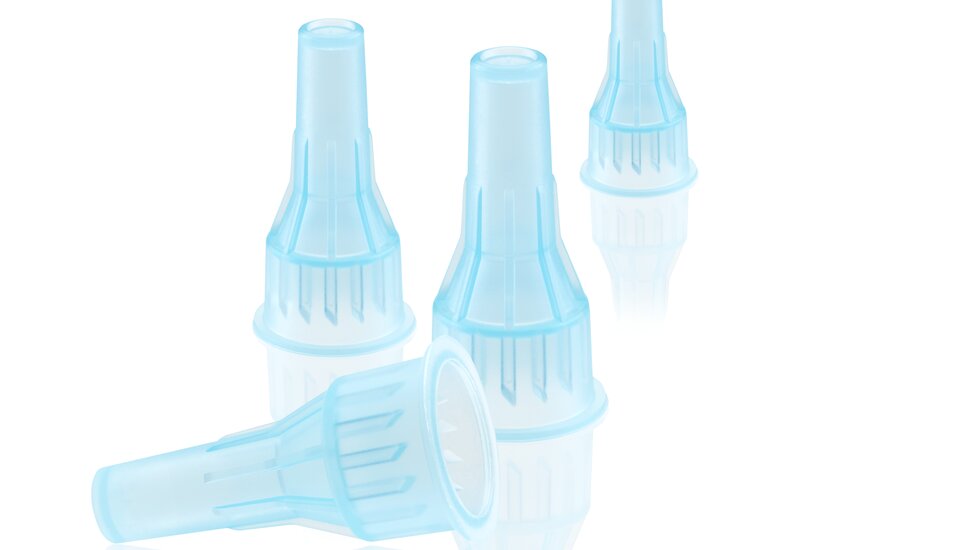 Upcycling with ZE 28 BluePower twin-screw extruder
In the ZE 28 BluePower, the conversion to a high-tech compound takes place. The polypropylene is mixed with 30 percent glass fiber, adhesion promoters and liquid colors, and the material is then homogenized. This is how it reaches the next injection molding machine, a powerMolding 1300-11900 with a clamping force of 13,000 kN.
This newly developed series is based on proven two-platen technology and features a highly standardized range of options as a cost-effective variant for near-standard applications. The powerMolding also features the APCplus machine function, which has been further developed especially for recyclates. Here, batch fluctuations often turn out to be greater than with standard materials, which influences the melt viscosity.
APCplus defines the changeover point individually for each cycle and thus achieves extremely uniform shot weights. The target process is also reached much faster when starting up the machine, thus significantly reducing scrap
The digital services of KraussMaffei's DSS business unit make both the injection molding and the extrusion process even more efficient than before.  After all, the initial investment in a new injection molding machine, for example, is only about ten to 20 percent of the life cycle costs. The rest is accounted for by the actual operation. This means that if expenses for energy, maintenance, etc. can be reduced, this not only benefits the environment but also increases profitability.
The K trade show application focuses on sustainability, and all data in this regard is recorded and displayed so that it is always clear how much CO2 has been saved by recycling compared to using virgin material. For this purpose, KraussMaffei developed an application together with Motan which shows which energy consumption is incurred per process step.
This enables the processor to identify and improve its eco-balance. A look into the depth of the process can be taken with the dataXplorer, which stores up to 500 machine signals in real time and thus also serves as a basis for measuring the CO2 footprint.  Deviations from predefined tolerance ranges can be detected immediately in this way.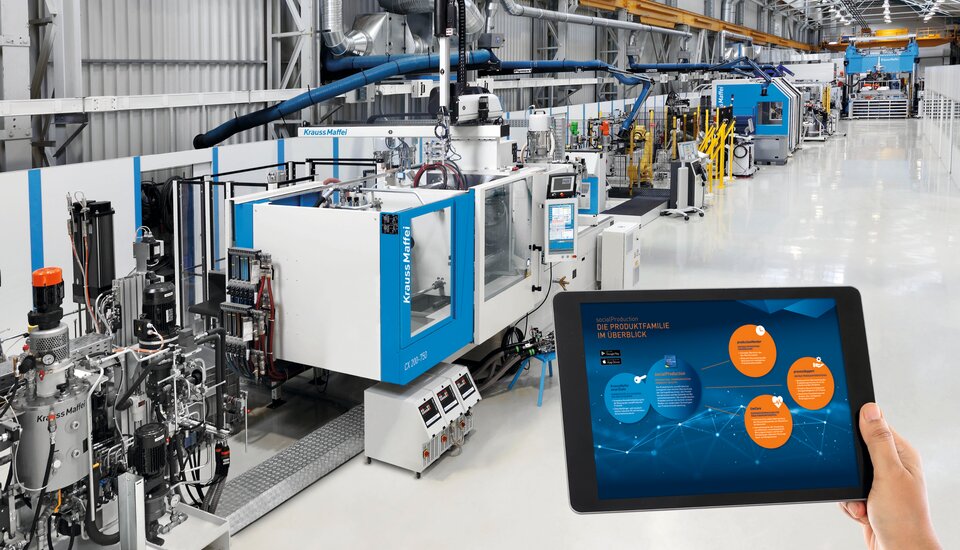 State-of-the-art technologies for production monitoring
KraussMaffei offers a comprehensive portfolio of options for making production more environmentally friendly – for example, the socialProduction product family. Its digital products liveCare, processSupport and productionMonitor were developed together with customers. Here you can see what is already a reality in the field of Industry 4.0, cloud and data analytics for plastics machinery. productionMonitor combines the benefits of social media with state-of-the-art production monitoring technologies.
The machines report live to users in secure chat rooms. processSupport independently and intelligently detects anomalies in the production process, and liveCare is the solution for condition-based maintenance. Seamlessly integrated into socialProduction, wear conditions are continuously monitored and visualized.
The pioneersClub is the central customer experience and eCommerce platform. Here, customers can get an overview of their machines, including documentation, quickly contact company experts, and order spare parts at the click of a mouse.
Sustainability is becoming an increasingly important issue for customers and authorities. The EU, for example, is planning to introduce a digital product passport in a few years, which will show for each article, among other things, which material was used and how it was processed. With the digital products from KraussMaffei, you can already take the first steps in this direction.