Digitální dálkové vidění jako rozhodující výhoda výroby
TEXT KraussMaffei
FOTOGRAFIE KraussMaffei
V minulosti byly v autě jeden nebo dva koaxiální kabely – pro rádio. Nyní jich je díky e-mobilitě, senzorové technice a asistenčním systémům až 17. Specialista na kabely MD ELEKTRONIK ví, jak důležité jsou digitální datové toky, a nechal vybavit dva nové stroje KraussMaffei systémem socialProduction pro sledování výroby. Přejímací zkouška již proběhla na dálku.
Často to není zřejmé, ale technologický pokrok v automobilu má s kabely mnoho společného. Signály ze senzorů deště se musí přenášet, aby se jim stěrače mohly přizpůsobit. Mobilní telefon se připojuje přes Bluetooth – ale jak se kontakty dostanou z obrazovky na displej? Zde jsou potřeba fyzické datové cesty, stejně jako u kamer, brzdových asistentů a mnoha dalších funkcí..
Výrobce kabelové konfekce MD ELEKTRONIK se touto problematikou zabývá již více než 30 let a dodává ji většině výrobců vozidel. Nyní si pro dva nedávno instalované plně elektrické stroje PX (81 a 121) od společnosti KraussMaffei vybral produktovou řadu socialProduction, aby mohla sama využívat moderní možnosti pro podporu procesů a monitorování systému.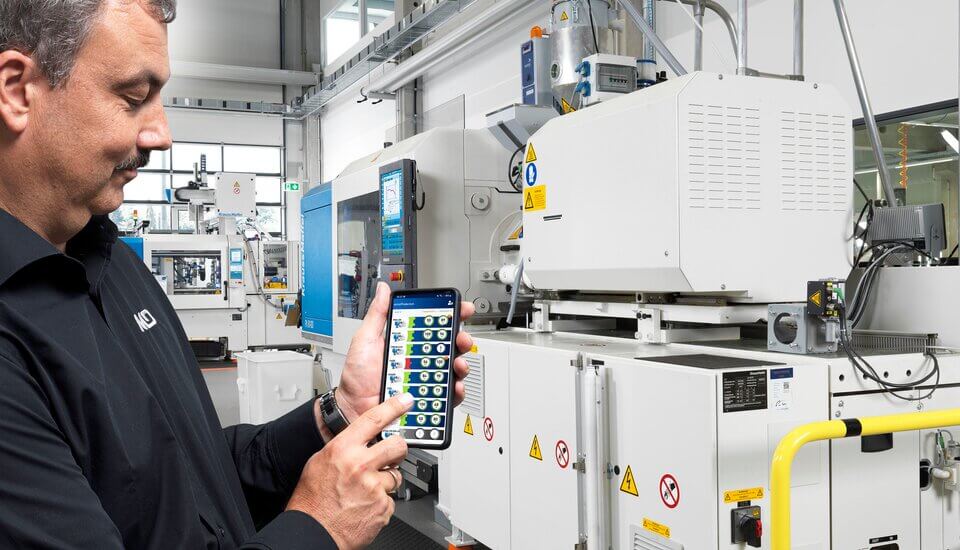 Peter Krause, který je ve společnosti MD ELEKTRONIK zodpovědný za nákup a zaučování nových strojů, vzpomíná, jak k tomu došlo: "Náš zákaznický poradce pan Betzing nám řekl o novém digitálním produktu a krátce nám ho předvedl. Okamžitě to vzbudilo náš zájem." Jak moc je tento produkt zajímavý, se ukázalo krátce poté při přejímce stroje: "Pro jeden ze strojů PX máme trysku s dlouhým dosahem plus topnou pásku a chtěli jsme vědět, zda vše funguje tak, jak má. Mohli jsme online delší dobu sledovat, jak stroj, který byl ještě ve firmě KraussMaffei Automation ve Schwaigu, bez problémů vyrábí. Nikdo nemusel chodit ke stroji a posílat nám datové záznamy."
V centrále MD ve Waldkraiburgu pracuje přibližně 550 specialistů v oblasti vývoje, prodeje a konstrukce zařízení. Zde, v technickém centru, kde se v současné době nacházejí dva PX, se připravují nové projekty vhodné pro transfer do výrobních závodů v České republice, Bulharsku, Číně a Mexiku. Celosvětově dodává přibližně 6000 zaměstnanců společnosti MD ELEKTRONIK ročně přibližně 20000 individuálně sestavených položek podle specifikací zákazníků. K tomu je zapotřebí přibližně 400 000 kilometrů kabelů – desetinásobek délky rovníku.
V roce 1995 společnost vstoupila do oboru zpracování plastů. Hlavními výrobky jsou zástrčky a pouzdra, která se připojují ke kabelům. Vyrábí se z PBT a PA s obsahem skleněných vláken až 30 procent. Vzhledem k tomu, že vstřikovací stroje ve Waldkraiburgu nejsou z kancelářských pracovišť vidět, má smysl využívat možnost online sledování. Kromě toho se čas od času provádí bezobslužné směny ("ghost shifts"), kdy jsou informace důležité v problémových případech.
Tři moduly productionMonitor, processSupport a liveCare socialProduction nabízejí odpovídající možnosti díky kombinaci výhod sociálních médií s nejmodernějšími technologiemi monitorování výroby. Stroje a operátoři spolu komunikují v odděleném chatu.

Stefan Betzing
KraussMaffei, obchodní manažer pro servis
ProductionMonitor tak poskytuje rychlý přehled o strojovém parku včetně odpovídajících klíčových údajů, jako je průběh zakázky a zbývající doba provozu. Pokud dojde k alarmům nebo změnám parametrů, stroj automaticky odešle zprávu v chatu. Vzniká tak digitální deník směny, který dokumentuje důležité události přesahující rámec směny. processSupport nahlíží ještě hlouběji. Zde je výrobní proces monitorován samoučícím se postupem založeným na komplexním algoritmu a znalostech procesů společnosti KraussMaffei. Všechny dostupné parametry stroje jsou k dispozici pro vizualizaci a analýzu; abnormality v procesu jsou okamžitě detekovány a sděleny uživateli.
To probíhá autonomně a bez nutnosti, aby odpovědná osoba musela předem zvlášť definovat tolerance. Díky tomu je proces stabilnější a lze se vyhnout prostojům. Produkt liveCare sleduje stav součástí stroje, aby bylo možné včas identifikovat požadavky na údržbu a odpovídajícím způsobem ji naplánovat. V případě materiálů vyztužených abrazivními vlákny, jaké používá MD ELEKTRONIK, se to týká například šneku. S ohledem na vývoj v oblasti energetiky má smysl vyměnit šnek v energeticky nejrozumnějším okamžiku: když je ještě funkční, ale ve zbývajícím životním cyklu spotřebuje v důsledku klesajícího plastifikačního výkonu více energie, než kolik nakonec výměna stojí. liveCare se používá i při uvedení na trh u MD ELEKTRONIK.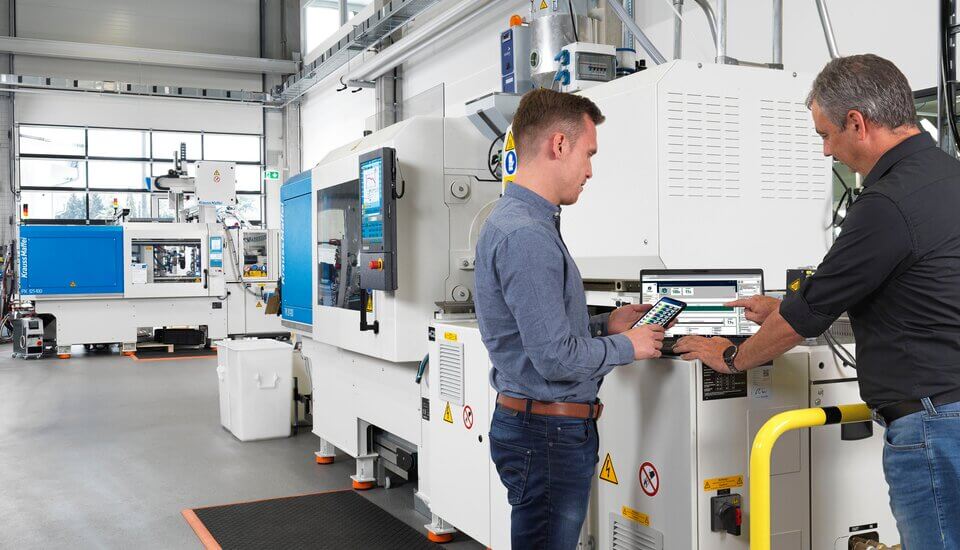 Peter Krause dosud využíval především sledování výroby a detekci anomálií socialProduction. Právě proto, že zodpovídá za pořízení nových strojů, zajímá ho, co se děje v probíhající výrobě na různých pracovištích. Jeden ze dvou nových PX bude v budoucnu přemístěn do Chotěšova v České republice – a i tam zůstane v jeho zorném poli. Během schůzky se zákazníkem si produktový manažer společnosti KraussMaffei Jonas Schwarz mohl naživo vyzkoušet, jak socialProduction zasílá upozornění na změnu stavu stroje v důsledku alarmů robota: "Díky tomu mohl pan Krause přímo reagovat a stroj restartovat."
Díly, které MD ELEKTRONIK vyrábí, mají hmotnost od 0,03 do 120 gramů a jsou vytvářeny ve formách až s 32 dutinami. Nejmenšími výrobky jsou izolační díly, které se upevňují mezi vnitřní a vnější vodiče konektorů. Pro takovéto lehké díly se doporučuje funkce APC plus, která je k dispozici také u PX. Zajišťuje konstantní hmotnost výstřiku individuálním nastavením bodu přepnutí a přítlaku pro každý jednotlivý cyklus. Za tímto účelem analyzuje v každém případě viskozitu taveniny a do výpočtu zahrnuje také uložené parametry materiálu. Peter Krause, který již mohl sám zjistit spolehlivost APC plus při různých testech, je proto o aplikaci přesvědčen.
V budoucnu bude tato funkce ještě důležitější. Cílem oběhového hospodářství je používat stále více recyklovaných plastů a odchylky šarží jsou podstatně větší než u primárního materiálu. Způsobují proměnlivou viskozitu a – bez kompenzace – měnící se hmotnost komponent. MD ELEKTRONIK má zkušenost, že zákazníci na jedné straně chtějí recyklovaný obsah, ale přesto se zdráhají jej implementovat. Uzavřený cyklus zpracování, tj. broušení vtoků ze stejné zakázky, je však obvykle schválen.
Spolupráce mezi MD ELEKTRONIK a KraussMaffei sahá až do roku 2000. Již tehdy byl u toho Peter Krause, který pro tohoto specialistu na kabely pracuje již 32 let. Během tohoto dlouhého období viděl, jak se společnost stále více zaměřuje na automobilový průmysl, v roce 2010 skončily aktivity v oblasti strojírenství a cykly obměny modelů v automobilovém průmyslu se zrychlily z přibližně sedmi let na tři roky. Od té doby se také výrazně změnila mobilní zařízení. Dnešní chytré telefony poskytují ideální prostředí pro vzdálený přístup k výrobě bez ohledu na to, kde se právě nacházíte, a to díky aplikaci socialProduction. Peter Krause však stále upřednostňuje webovou verzi pro počítač.
Zobrazení na velké obrazovce je příjemnější, protože na první pohled vidím ještě podrobnější informace. Bez ohledu na to, o jaké zařízení se jedná: Vzdálený pohled na jednotlivé  stroje vám v každém případě pomůže efektivně vyrábět a poskytne vám náskok před konkurencí.

Peter Krause
je ve společnosti MD ELEKTRONIK zodpovědný za nákup a zaučování nových strojů
Stefan Betzing je rád, že mohl svému zákazníkovi pomoci s digitálními řešeními od společnosti KraussMaffei a že Peter Krause je tak nadšený z kompletního balíčku socialProduction: "Společnost MD ELEKTRONIK našemu produktu od počátku důvěřovala a byla jednou z prvních firem, které jej použily. Obzvláště mě těší, že se socialProduction intenzivně využívá a lidé stále znovu objevují nové přidané hodnoty v každodenní výrobě."