Digital remote vision as a decisive production advantage
TEXT KraussMaffei
PHOTOS KraussMaffei
In the past, there were one or two coax cables in the car – for the radio. Now, due to e-mobility, sensor technology and assistance systems, there are up to 17. The cable specialist MD ELEKTRONIK knows how important digital data streams are and has had two new KraussMaffei machines equipped with socialProduction for production monitoring. The acceptance test was already carried out remotely.
It's often not obvious, but technological progress in the automobile has a lot to do with cables. Signals from rain sensors have to be relayed so that the windshield wiper can adjust to them. The cell phone connects via Bluetooth – but how do the contacts get from the screen to the display? Physical data paths are needed here, just as they are for cameras, brake assistants and many other functions.
Cable assembler MD ELEKTRONIK has been dealing with this topic for more than 30 years and supplies most OEMs. Now it has chosen the socialProduction product family for two recently installed all-electric PX machines (81 and 121) from KraussMaffei so that it can also use the modern options for process support and system monitoring itself.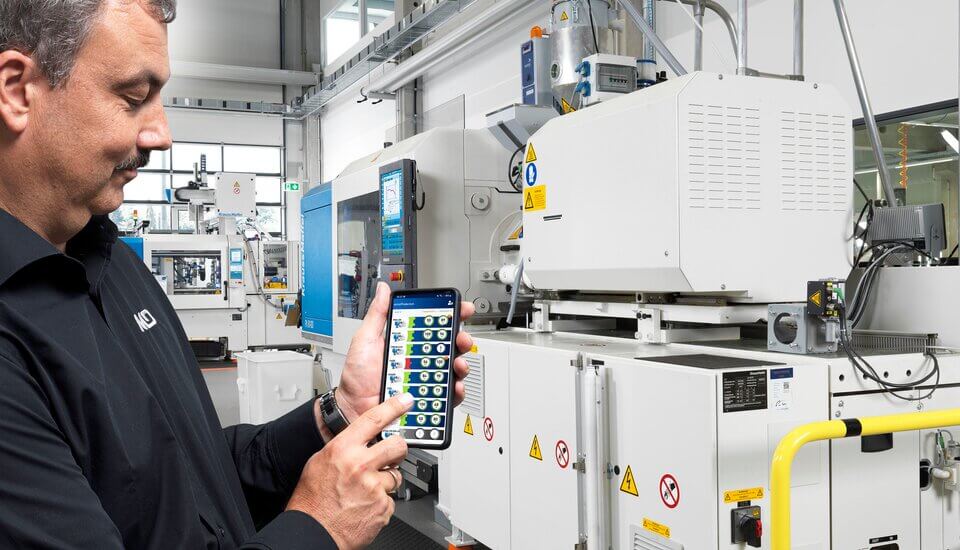 Peter Krause, who is responsible for the purchase and teach-in of new machines at MD ELEKTRONIK, remembers how it came about: "Our customer advisor Mr. Betzing told us about the new digital product and gave us a brief demonstration. It was instantly a very interesting thing for us." Just how interesting this product is became clear a short time later at the machine acceptance: "We have a long-reach nozzle plus heating tape for one of the PX machines and wanted to know whether everything functions as intended. We were able to track online over a longer period how the machine, which was still at KraussMaffei Automation in Schwaig, produced smoothly. Nobody had to go to the machine and send us the data records."    
At the MD headquarters in Waldkraiburg, around 550 specialists work in the areas of development, sales and equipment construction. Here, in the technical center where the two PXs are currently located, new projects are made fit for transfer to the production sites in the Czech Republic, Bulgaria, China and Mexico. Worldwide, MD ELEKTRONIK's approximately 6,000 employees deliver about 20,000 individually assembled items per year according to customer specifications. This requires around 400,000 kilometers of cable – ten times the length of the equator.
In 1995, the company entered the field of plastics processing. The main products are plugs and housings that are attached to the cables. Typically, PBT and PA with a glass fiber content of up to 30 percent are processed for this. Since the injection molding machines in Waldkraiburg cannot be seen from the office workstations, it makes sense to use an online monitoring option. In addition, ghost shifts are run from time to time, where information is relevant in problem cases.
With its three modules productionMonitor, processSupport and liveCare socialProduction offers the corresponding options by combining the advantages of social media with state-of-the-art technologies of production monitoring. Machines and operators communicate in a separate chat room.

Stefan Betzing
KraussMaffei, Manager Sales for Service
Thus, productionMonitor provides a quick overview of the machine park including corresponding key figures such as order progress and remaining runtime. If there are alarms or parameter changes, the machine automatically sends a message in the chat. This creates a digital shift log that documents important events beyond the shift change. processSupport looks even deeper. Here, the manufacturing process is monitored by a self-learning procedure based on a complex algorithm and KraussMaffei's process knowledge. All available machine parameters are available for visualization and analysis; abnormalities in the process are immediately detected and communicated to the user.
This takes place autonomously and without the person responsible having to define tolerances separately in advance. This makes the process more stable, and downtimes can be avoided. The liveCare product monitors the condition of machine components to identify maintenance requirements at an early stage and plan accordingly. In the case of abrasive fiber-reinforced materials, such as those used by MD ELEKTRONIK, this concerns the screw, for example. In view of developments in the energy sector, it makes sense to replace a screw at the most energetically sensible moment: when it is still functional, but consumes more energy in the remaining life cycle due to declining plasticizing performance than the replacement ultimately costs. liveCare is also in use at the market launch at MD ELEKTRONIK.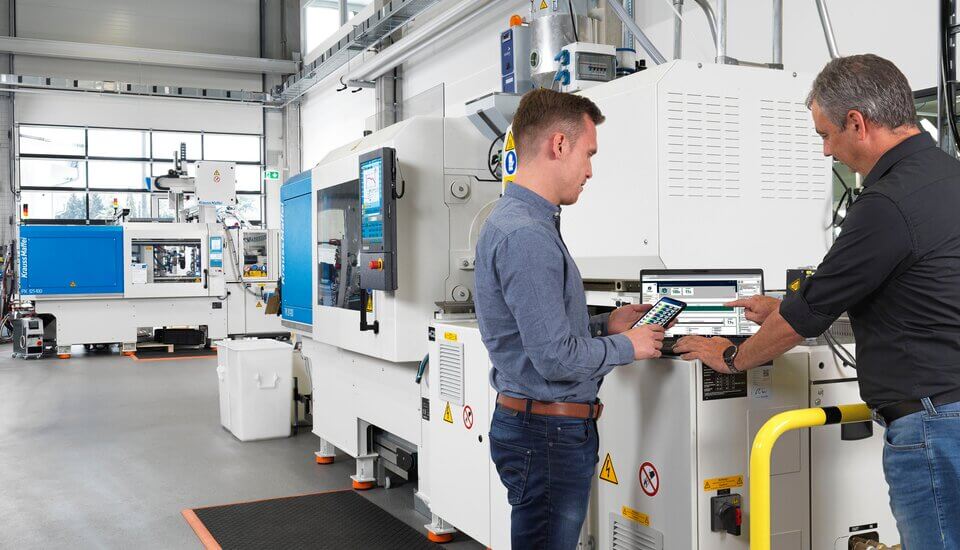 So far, Peter Krause has mainly used socialProduction's production monitoring and anomaly detection. Precisely because he is responsible for the acquisition of new machines, he is interested in what is happening in ongoing production at the various sites. One of the two new PXs will be relocated to Chotěšov, Czech Republic in the future – and will remain in his field of vision there as well. During a customer appointment, KraussMaffei Product Manager Jonas Schwarz was able to experience live how socialProduction sent a notification when the machine changed its status due to robot alarms: "This enabled Mr. Krause to react directly and restart the machine."
The parts that MD ELEKTRONIK produces vary in weight from 0.03 to 120 grams and are created in molds with up to 32 cavities. The smallest articles are insulating parts, which are attached between the inner and outer conductors of connectors. The APC plus machine function, which is also available on the PX, is recommended for such lightweights. It ensures a constant shot weight by individually adjusting the switchover point and holding pressure for each individual cycle. To do this, it analyzes the melt viscosity in each case and also includes stored material parameters in the calculation. Peter Krause, who has already been able to determine the reliability of APC plus himself in various tests, is convinced of the application for this reason.
In the future, the function will become even more important. The circular economy aims to use more and more recycled plastics, and batch variations are considerably greater than with virgin material. They cause varying viscosity and – without compensation – changing component weights. MD ELEKTRONIK has made the experience that customers on the one hand want recycled content, but are nevertheless reluctant to implement it. Closed-loop processing, i.e. the grinding in of sprues from the same order, is, however, usually approved.
The cooperation between MD ELEKTRONIK and KraussMaffei goes back to the year 2000. Even then, Peter Krause, who has been working for the cable specialist for 32 years, was on board. During this long period, he has seen the company focus more and more on the automotive sector, with activities in the mechanical engineering sector coming to an end in 2010, and model change cycles in the automotive sector accelerating from around seven years to three years. Mobile devices have also changed significantly since then. Today's smartphones provide an ideal environment for accessing production remotely, no matter where you are, with socialProduction. Peter Krause, however, still favors the web-based version for the computer.
The display on the big screen is more pleasant because I can see even more detailed information at a glance. Regardless of which device: The distant view of the individual fleet helps you to produce efficiently in each case and gives you a leading edge over competitors.

Peter Krause
is responsible for the purchase and teach-in of new machines at MD ELEKTRONIK
Stefan Betzing is happy that he was able to help his customer with the digital solutions from KraussMaffei and that Peter Krause is so impressed with the socialProduction complete package: "MD ELEKTRONIK trusted our product from the outset and was one of the first companies on board. I am particularly delighted to see that socialProduction is being used intensely and people are discovering new added values in everyday production time and again."