Jak s KraussMaffei bez nesnází zvládnout hlavní výzvy současnosti, jako jsou náklady na energie a nedostatek kvalifikovaných pracovníků
Větší energetická účinnost? A přitom méně stresu? KraussMaffei slaví 185. výročí založení společnosti, a proto nabídla speciální edici osvědčené řady CX s několika atraktivními vlastnostmi. Ty zpracovatelům plastů pomohou zvládnout palčivé problémy, jakými jsou energetická účinnost nebo nedostatek kvalifikovaných pracovníků.
Řada CX je pověstná svou flexibilitou, kompaktním designem a neuvěřitelnou všestranností. Součástí speciální edice s přívlastkem #185 je balíček atraktivních doplňkových funkcí, které jsou běžně zpoplatněny. Nyní jsou integrovány bez příplatku.
Produktová řada zahrnuje:
Servopohon BluePower, který optimálně řídí čerpadla podle aktuální potřeby nebo energetických požadavků. Tím se výrazně snižuje spotřeba elektrické energie, a tím i provozní náklady a emise CO2 z výroby.
Izolační manžety BluePower, které jsou umístěny kolem plastifikačního válce, stabilizují teplotní profil, a zlepšují tak stabilitu procesu. Zkracují také dobu zahřívání až o 30 %, což vede k odpovídající úspoře energie.
Funkce stroje APCplus (Adaptive Process Control), která nepřetržitě analyzuje proces vstřikování a rychle a přesně kompenzuje výkyvy viskozity taveniny způsobené materiálem a prostředím. To umožňuje výrobu beze zmetků. Systém APCplus bude bezplatně integrován do speciální edice CX řady #185 při podpisu smlouvy do 185 dnů od zahájení kampaně 9. května 2023.
Funkce stroje smartOperation, která umožňuje intuitivní ovládání celého procesu vstřikování, a to i bez pokročilých zkušeností s aplikací. Společnosti tak mohou zajistit standardizovaný a bezchybný proces i vysokou dostupnost systému i bez určené obsluhy. I zde platí nabídka bezplatné integrace, pokud je objednávka zadána do 185 dnů.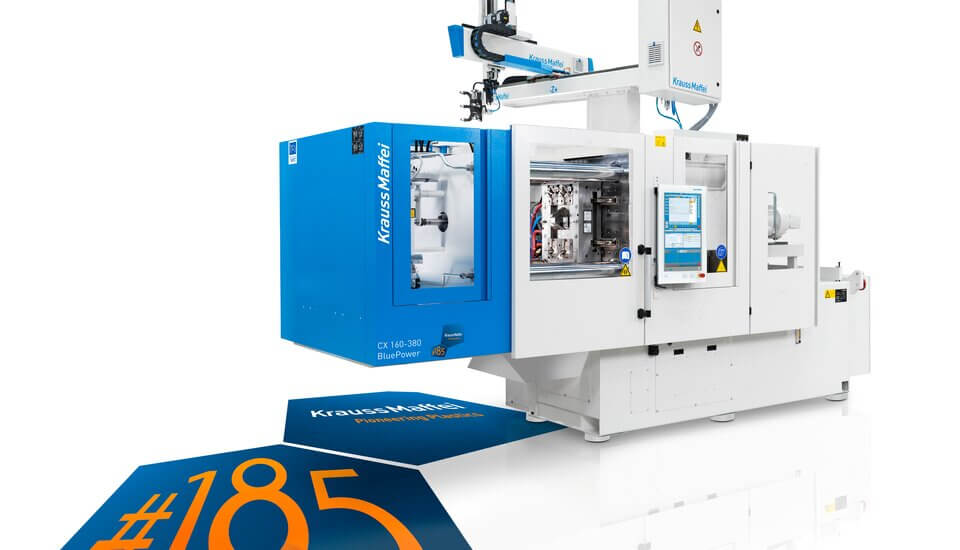 Se vstřikovacími stroji CX mají firmy optimální možnost ke zvyšování udržitelnosti neobvyklými způsoby aplikace vstřikování. Od udržitelných podšálků pro kávové šálky vyrobených z biopolymerů na bázi kávové sedliny u společnosti Gebaplast v Nizozemsku až po spojovací materiál pro membrány na stavbu tunelů vyrobený z recyklovaného plastu vyloveného z moře u norské společnosti Oldroyd.
Právě tyto na první pohled netradiční výrobní úlohy znovu a znovu ukazují, jak cenná je flexibilita, kompaktnost a efektivita řady CX. Díky tomu v těchto aplikacích vynikají skvělou reprodukovatelností a vysokým výkonem s nekompromisní kvalitou
Se speciální edicí řady CX nyní společnost KraussMaffei svým zákazníkům nabízí ještě efektivnější a kvalitnější vstřikování plastů a podporuje je, aby aktuální výzvy zvládli beze stresu. Výstižné motto její jubilejní nabídky tedy zní "RelaCX – It's a CX!".
Text: KraussMaffei
Foto: KrausMaffei