How to master easily current challenges such as energy costs and shortage of skilled workers
More energy efficiency? And at the same time less stress? To mark its 185th company anniversary, KraussMaffei is offering a special edition of its proven CX series with several attractive features. Plastics processers will profit in terms of pressing issues such as energy efficiency or lack of skilled workers.
The CX series is well known for its flexibility, compact design and incredible versatility. The special edition with the suffix #185 includes a package of attractive additional features that are normally subject to a charge and are now integrated at no extra cost.
Specifically, the product line includes:
BluePower servo drive that optimally controls the pumps according to current demand or energy requirements. This significantly reduces electricity requirements and thus lowers operating costs as well as CO2 emissions from production.
BluePower insulating sleeves, which are placed around the plasticizing cylinder, stabilize the temperature profile there and thus improve process stability. They also reduce warm-up time by up to 30 percent, resulting in corresponding energy savings.
The APCplus (Adaptive Process Control) machine function, which continuously analyzes the injection molding process and quickly and accurately compensates for material- and environment-related fluctuations in melt viscosity. This enables zero-defect production. APCplus will be integrated into the #185 special edition CX series at no cost when a contract is signed within 185 days of the start of the campaign on May 9, 2023.
The smartOperation machine function, which enables intuitive control of the entire injection molding process, even without in-depth application expertise. Companies can thus ensure a standardized and error-free process as well as high system availability even without a designated operator. Here, too, the offer of free integration applies if the order is placed within 185 days.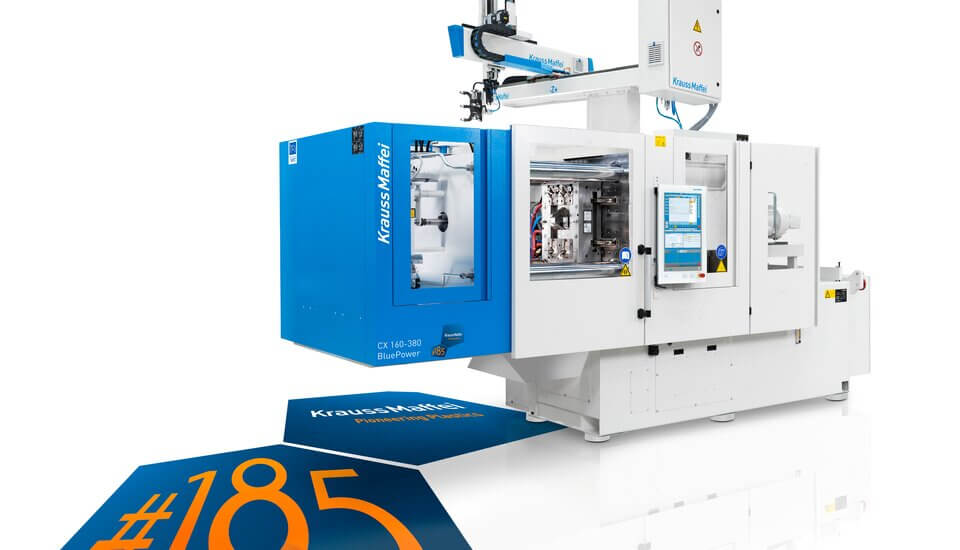 RelaCX – In its 185th anniversary year, KraussMaffei is offering a special edition of the proven CX series with numerous attractive features
Companies are also optimally positioned for unusual injection molding applications to increase sustainability with the injection molding machines of the CX series. Applications range from sustainable coasters for coffee cups made from biopolymers based on coffee grounds with Gebaplast in the Netherlands to fastening material for membranes in tunnel construction made from recycled marine plastic with the customer Oldroyd in Norway.
Precisely those production tasks that seem unconventional at first glance demonstrate time and again how valuable the flexibility, compactness and efficiency of the CX series are. As a result, they excel with great reproducibility and high output rates with uncompromising quality in these applications.
Text: KraussMaffei
Photo: KraussMaffei