Rukávy EcoPac izolují tam, kde je to nejdůležitější
Ve válci šneku je horko — a co nejméně tohoto tepla se má dostat ven. To zajišťují izolační rukávy EcoPac, které lze omotat kolem válce a které jsou k dispozici pro všechny velikosti vstřikovacích jednotek.
TEXT KraussMaffei
FOTOGRAFIE KraussMaffei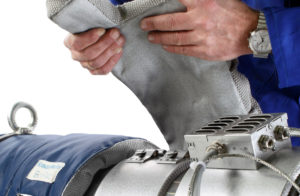 S izolačními rukávy EcoPac ušetříte energii i peníze.
Izolační rukávy EcoPac stabilizují teplotní profil a zvyšují stabilitu procesu.  Doba ohřevu se zkracuje až o 30 procent. Zvláště lukrativní jsou úspory spotřeby energie, které mohou dosáhnout až 40 procent. Díky tomu se investice do izolace EcoPac vrátí během jednoho až dvou let.
V případě příkladového výpočtu se vstřikovacím strojem MX 1000 (uzavírací síla 10 000 kN) a 6 000 výrobními hodinami se tím sníží spotřeba energie až o 24 000 kWh. Vynásobíte-li to cenou 0,12 EUR za kilowatthodinu, získáte úsporu 2 880 EUR. Také se uvolní až o 9,6 tuny méně CO2.
Méně znamená více – Více informací o řešeních společnosti KraussMaffei, která vám pomohou zlepšit energetickou účinnost a rozumně šetřit zdroje, najdete v našem seriálu "energetická účinnost".