EcoPac sleeves are insulating where it matters most
TEXT KraussMaffei
PHOTOS KraussMaffei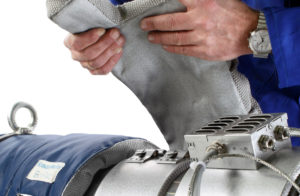 Save energy and money
with the EcoPac insulation sleeves.
The EcoPac insulation sleeves stabilize the temperature profile and increase process stability.  The heating time is reduced by up to 30 percent. The savings for energy consumption are particularly lucrative, with up to 40 percent being possible. As a result, the investment for the EcoPac insulation pays for itself in a year or two.
For the example calculation with an MX 1000 injection molding machine (clamping force 10,000 kN) and 6,000 production hours, this cuts the energy consumption by up to 24,000 kWh. If you multiply this by a price of 0.12 € per kilowatt hour, you get a savings of EUR 2,880. Also, up to 9.6 fewer tons of CO2 are released.
Because less is more – Learn more about KraussMaffei solutions that help you to improve your energy efficiency and sensibly conserve resources in our series "energy efficiency".