Weekly Timer organises injection molding process with pinpoint accuracy
TEXT KrassMaffei
PHOTOS KraussMaffei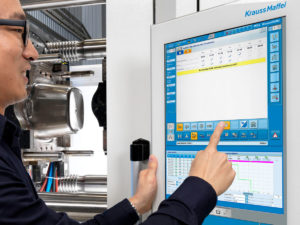 the machine operators can precisely set the desired start of production of the injection molding machine
The Weekly Timer knows exactly when the oil preheating, the barrel heating and the mold heating have to be started so that everything is ready at the start of production. This can be configured separately for each day of the week.
Does the temperature fluctuate due to weather conditions or a newly installed plasticizing unit? No problem—the Weekly Timer takes these into account and compensates for them. This eliminates machine waiting times.
Because less is more – Learn more about KraussMaffei solutions that help you to improve your energy efficiency and sensibly conserve resources in our series "energy efficiency".
Savings with the use of digitization
KraussMaffei offers other options for cost savings in production. Read the article about the dataXplorer digital solution that supports further resource savings.