Like a tree or a carp, a candy is strongly associated with Christmas. There are many species, but even within a single species there are many variations. What kind of Christmas cookies are most popular among people from KUBOUŠEK? And which recipes have our customers liked?
We have selected some great recipes for you that you can't go wrong with. They are from our handy colleagues from different departments in the company. The people of KUBOUŠEK are not just salesmen and servicemen, but behind them are other skilled colleagues who provide full support to the front-line team, whose members many of you know personally.
Honey gingerbread recipe from Pavla
Honey gingerbread is one of the most famous and popular sweets. They are made with minor modifications in almost every household, but here at Kubouska, we liked the recipe from Pavla, who, in addition to being a great baker, holds the position of head of the president's office. She is right hand of Ivan Kuboušek and is in charge of all legal activities in the company.
A very popular recipe for light honey gingerbread from Pavla. We all fell in love with these gingerbread cookies in our company. Try them too.
Ingredients for honey gingerbread from Pavla
Dough
600 g plain flour
300 g powdered sugar
2 teaspoons of baking soda
3 teaspoons of cinnamon
2 teaspoons of gingerbread spice
200 g honey
3 eggs
150 g warmed butter
Topping
2 egg whites
200 g powdered sugar
1 teaspoons of lemon juice
Honey gingerbread production process
First, mix all the loose ingredients (flour, sugar, soda, cinnamon and gingerbread spices) and then add honey, eggs and butter. We make a smooth dough and let it rest overnight until the next day in the refrigerator.
We roll out a sheet about half a centimeter thick from the rested dough and cut out various shapes with the help of molds.
Place the gingerbread evenly on a baking sheet and bake at 170°C for a relatively short time (approx. 10 minutes). If the gingerbreads sink in the middle, increase the temperature. If they burst, on the contrary, we reduce the temperature.
If you want the gingerbread to be smooth and shiny, you need to brush it with a beaten egg with a little lemon juice (this is possible before and after baking).
After baking, we can prepare the topping. Beat egg whites with sifted sugar and lemon juice with an electric mixer with whisks to the consistency of the frosting. It should be thicker and at the same time stretch gently.
Apply the frosting with a decorating bag with a thin tip or a gingerbread decorating tube. We chose to decorate in the KUBOUŠEK style. 😊
The recipe for mocca ovals from Katka
We can recommend Mocca ovals to all coffee lovers. And that there are some among KUBOUŠEK  people. This is also why this cookie, which Katka taught us to bake, became very popular. Katka is our chief accountant, which is another position where diligence is required. Maybe that's why the ovals from Katka are one as another and perfectly tuned in taste.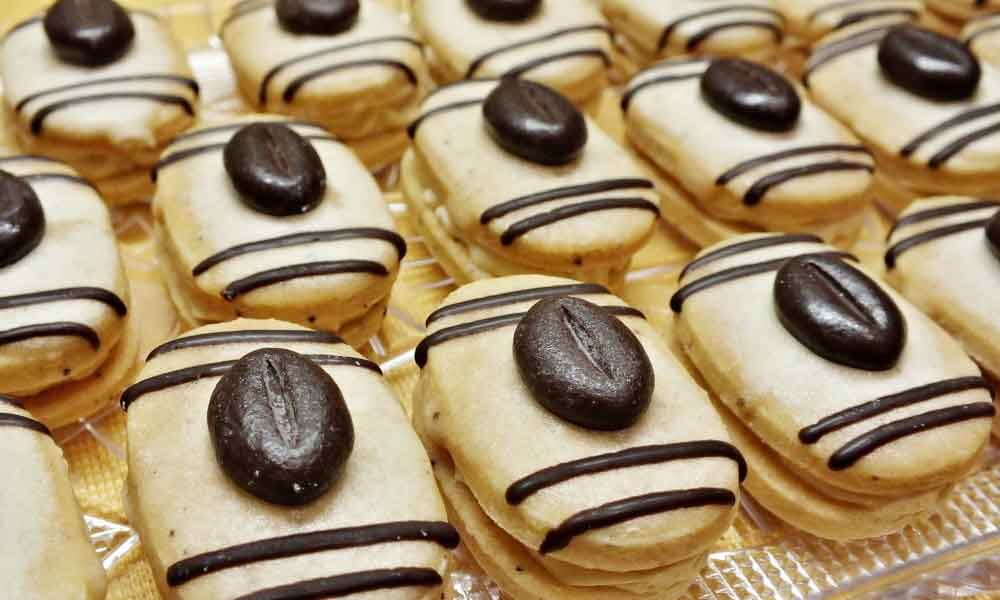 Recipe for coffee mocca ovals from Katka – a popular Christmas cookie among KUBOUŠEK people.
Ingredients for mocca ovals from Katka
Dough
320 g plain flour
200 g vegetable fat
1 eggs
110 g powdered sugar
1 package vanilla sugar
1 teaspoon of ground coffee
Topping
150 g butter
70 g powdered sugar
1 teaspoon of ground coffee
Topping
1 egg white
4 tablespoons of powdered sugar (optional to taste)
0,5 teaspoons of ground coffee
The process of making mocca ovals
First, we prepare the dough by mixing all the ingredients into a dough, which we then roll out into thin sheets of about half a centimeter. We cut them into ovals with a mold (but they can be circles or other favorite shapes), which we bake on a baking sheet at a temperature of 180 degrees for 6 to 7 minutes.
After baking, remove the cookies from the baking sheet and let them cool.
While cooling, we can prepare the cream by beating the butter with icing sugar and coffee. Fill the cooled ovals with the thick cream prepared in this way.
At the end, dip one part of the ovals in the frosting, which we prepare by whipping egg whites with powdered sugar and ground coffee. We put a coffee bean in the frosting for decoration, which we can cover with chocolate.
A recipe for trouble-free production from KUBOUŠEK
Seamless production is not only a theme at Christmas, but all year round. At the same time, as with sweets, a lot depends on the selection of suitable ingredients and following the correct procedure. Only then can you enjoy less stress, increased productivity and, of course, higher profit. If you don't want to leave anything to chance, try a proven recipe by our customers.
Difficulty: very easy in cooperation with the KUBOUŠEK team
Nutritional value: high nutritional value for your business
Suitable for: automotive industry, aerospace industry, engineering industry, medical industry, electrical industry, consumer industry, food industry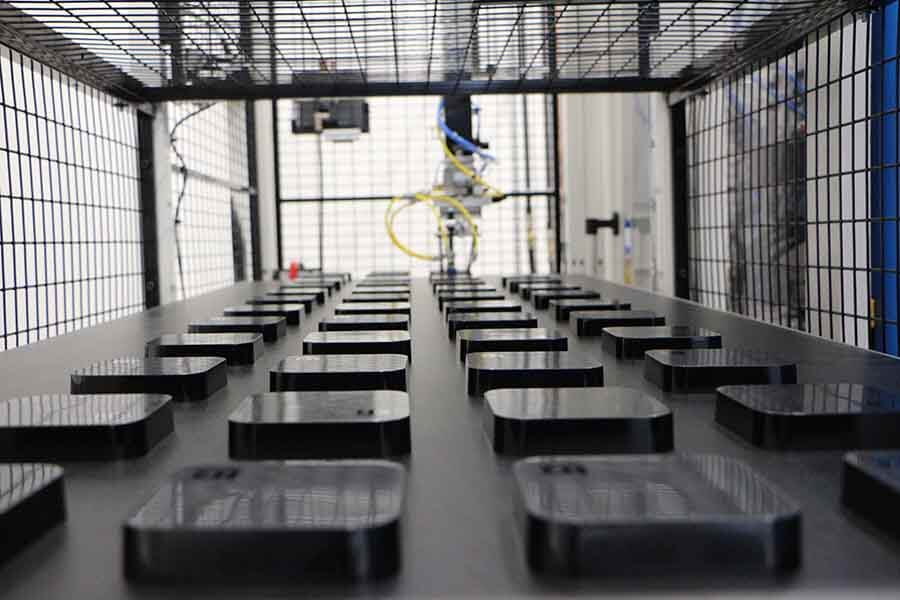 A recipe for problem-free production – it is important to choose the right equipment and follow the correct procedure.
Raw materials for trouble-free production
The production line
Automation
Quality control
Testo thermal camera for a quick check of the compactness of the moldings
digital profile projector Metrios for checking dimensional and shape parameters of products
A process to achieve seamless production
We take the KraussMaffei injection machine and, using the KUBOUŠEK service, place it in the prepared place. We will connect the technical leads and the magnetic clamping plate EAS Pressmag LP. With a team of peripheral device specialists, we will connect the Regloplas temperature control device. We gradually connect Koch Technik equipment for dosing, mixing and transporting the material to the machine. For accurate dosing, we recommend the Graviko GK gravimetric station, but you can also replace it with a volumetric station.
When the machine is assembled in this way, we can jump into production testing with the support of the application technicians of the KUBOUŠEK Technology Center. Do not forget about this part, because it will add an excellent taste of time and financial savings to the whole production.
In the meantime, we will develop automation for the removal of moldings, their sorting and the reuse of inflows or failed products, thanks to which we will reduce the cost of production materials.
The main component of the automation is the robot – in our case the five-axis Sepro 5X-25 robot, which is an excellent component even for more complicated automated solutions and is widely used not only in European production, but has also found its place in oriental factories throughout the American continent or in Asia .
We carefully connect the robot to the gripper and fasten it to the injection machine. During programming, we will deploy the MTF belt conveyor, the MTF drum separator and the Rapid OneCUT PRO plastic shredder according to the project. If you want to prevent the occurrence of solid particles in your products, do not forget to season the entire automation with the Sesotec Protector metal particle separator.
While we were installing the automation, production was debugged and can now be run. Before the launch itself, we must not forget to spice things up by training the operator through the KUBOUŠEK Education Center.
In order to achieve a really great result, we must not forget to mix in predictive maintenance of the equipment and regular calibration of the sensors on the injection machine as well as some peripheral devices from the KSQ accredited calibration laboratory.
We regularly test problem-free production with a Testo thermal camera for absolute certainty of the compactness of the moldings or for the first detection of worn parts of the production machine or other equipment, which, with the quick replacement of spare parts by the KUBOUŠEK service center, prevents the flow of production from worsening in the form of unexpected downtime.
We serve the pressings with quality control on a regularly calibrated Metrios projector profile, which decorates each production batch to taste with the necessary protocols or analysis on the quality of the products.
A tip for gourmets
You can supplement the injection molding machine with special production technologies for an extraordinary shine of moldings (Roctool) or MuCell, which will save up to tens of percent on product weight and input material.
For more perfect control of continuous production, we can add smart functions for greater production stability APC plus or for data collection the dataXplorer from KraussMaffei or, according to taste, the comprehensive MeasurLINK® software package from Mitutoyo.